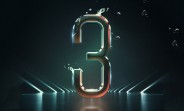 Huawei has another smartband in the works - the Honor Band 3. A press invite entices journalist to attend the June 12 unveiling (this Monday) without giving away too much about the band itself.

Some water splash effects hint at what could easily be guessed - IP67 water resistance similar to the recent Honor Band A2. The Band 3 (no "A") is a more premium product, so it could have even better waterproofing.

With that in mind, it's also expected to be pricier than the A2, which is an admittedly low bar - CNY 200 ($30/€25). The Honor Band 3 should have smartphone connectivity (Android an......
By: GSMArena - Tuesday, 6 June
To add to this post, use the comments section below to share your views or click here for detailed content
Metro Tell is a complete voice of the world's media. We are constantly distributing news and information items every minute of the day from numerous number of news establishments, publishers and blogs to the general public. MetroTell.co.za is the one source for all the news and stories you love.
All images, logos, trademarks and copyrights on MetroTell.co.za are owned by their respective owners.
- Advertisement -
Related Posts