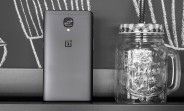 OnePlus' track record with software support for its devices has been decent for some products, and very bad for others (remember the OnePlus 2 and OnePlus X?). And with the release of the OnePlus 5 it's understandable that owners of last year's flagships, the OnePlus 3 and 3T, have gotten a bit antsy not knowing exactly what to expect from this point forward.

So today the Chinese company's Head of Product, Oliver Z., has decided to answer a few questions on the matter. He has thus revealed that Android O will be the last major update headed to the OnePlus 3 and 3T, with security patches......
By: GSMArena - Friday, 11 August
To add to this post, use the comments section below to share your views or click here for detailed content
Metro Tell is a complete voice of the world's media. We are constantly distributing news and information items every minute of the day from numerous number of news establishments, publishers and blogs to the general public. MetroTell.co.za is the one source for all the news and stories you love.
All images, logos, trademarks and copyrights on MetroTell.co.za are owned by their respective owners.
- Advertisement -
Related Posts
Older News
Nougat for Samsung Galaxy A8, A9 Pro, and Tab E is being tested GSMArena (Yesterday) - Looks like a couple of Samsung Galaxy A series smartphones and the TAB E series tablets will soon get the Nougat update. All these devices - the Galaxy A8, A9...
Asus promises Android O updates for the entire Zenfone 3 and Zenfone 4 series GSMArena (2 days ago) - As you may already know, earlier today Asus held a special event during which it unleashed six additional Zenfone 4 models. These all run Android Nougat, but what about the...
Sony Details Next Major PS4 Update IGN Africa (2 days ago) - Twitch streamers rejoice.Family Management, 1080p support and more in Sony's latest major update....

Sony Xperia XZ1 Compact stars in leaked renders, video
UPDATE 1-South African rand rallies, Naspers lifts stocks after Tencent's results
UPDATE 2-Zambian opposition leader walks free in treason case

The Nokia 8 vs Samsung Galaxy S8+ vs OnePlus 5 GSMArena (2 days ago) - Nokia 8 was announced yesterday with dual 13 MP cameras and Carl Zeiss optics. The first true Nokia Android flagship restarted the debate which high-end device sports the best camera...

Samsung Galaxy Tab A 8.0 (2017) gets TENAA certified
Samsung Galaxy Note8 US pre-orders to start on August 24. Sales on September 15
Galaxy Note8 briefly shows up on Samsung's official website