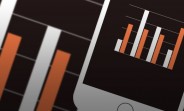 In a surprising turn of events, Apple's iPhone 6s has ended up on top of our weekly trending phones chart. The two-year-old phone has raked in a disproportionate number of hits this week, beating the usual suspects Galaxy J7 Pro and Nokia 6. And the even older iPhone 6 is on the chart too, albeit in 9th place.

Now, said crowd favorites are still on the podium, followed closely by the Lenovo K8 Note. The latter has climbed three spots from last week's 7th, likely driven by its official announcement on Wednesday.

The rest of the bunch are all familiar faces, all of them slipping two spots......
By: GSMArena - 3 days ago
To add to this post, use the comments section below to share your views or click here for detailed content
Metro Tell is a complete voice of the world's media. We are constantly distributing news and information items every minute of the day from numerous number of news establishments, publishers and blogs to the general public. MetroTell.co.za is the one source for all the news and stories you love.
All images, logos, trademarks and copyrights on MetroTell.co.za are owned by their respective owners.
- Advertisement -
Related Posts