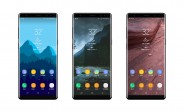 According to tipster Roland Quandt, the upcoming Samsung Galaxy Note8 smartphone will have a new color option: Deep Blue. In addition, it'll also be made available in Midnight Black and Orchid Grey.

Samsung Galaxy Note8 coming in Black, Orchid Grey and a new Deep Blue. At least.— Roland Quandt (@rquandt) July 22, 2017

Although yet to be officially confirmed, the new color shouldn't come as a surprise, given that last year's ill-fated Note7 also brought along a new, coral blue color, which was later also launched for the Galaxy S7 edge and the Galaxy S8 flagship duo.

The Galaxy......
By: GSMArena - 2 days ago
To add to this post, use the comments section below to share your views or click here for detailed content
Metro Tell is a complete voice of the world's media. We are constantly distributing news and information items every minute of the day from numerous number of news establishments, publishers and blogs to the general public. MetroTell.co.za is the one source for all the news and stories you love.
All images, logos, trademarks and copyrights on MetroTell.co.za are owned by their respective owners.
- Advertisement -
Related Posts
Older News
John Wick Shared Universe Reportedly Eyed With Ballerina Thriller IGN Africa (Today) - Newly-optioned script tipped to be used for a possible John Wick spin-off.Newly-optioned script tipped to be used to establish a possible John Wick shared universe....
Nintendo's Tested Mario Kart Without the Blue Shell But "It Feels Like Something's Missing" IGN Africa (Yesterday) - "You know, sometimes life isn't fair"Mario Kart director talks about why Blue Shells are still included in the game despite feeling unfair....
Verizon's Galaxy S8 and S8+ get Daydream VR support through new update GSMArena (Yesterday) - Verizon's Samsung Galaxy S8 and S8+ are now in the process of receiving a new software update each. This will arrive in the next few days over-the-air, and after you...

Google says 11 smartphones will be Daydream VR enabled by the end of 2017
Samsung brings Galaxy J3 and J7 to the States on July 28
ZeroLemon delivers Galaxy S8, S8+ and LG G6 battery cases with insane capacity

Alleged Samsung Galaxy A7 (2018) spotted in benchmark listing GSMArena (Yesterday) - A new Samsung smartphone has been spotted in a benchmark listing. The GFXBench listing reveals the device carries the model number of SM-A730x, with reports saying that it's the Galaxy...

Motorola Moto X4's Geekbench outing reveals Snapdragon 660 SoC
Sharp Aquos S2 leaks with 4K bezel-less display, under-glass fingerprint sensor
Verizon's Galaxy S8 and S8+ get Daydream VR support through new update

All black BlackBerry KEYone leaks GSMArena (Yesterday) - The BlackBerry KEYone was released back in April this year, and comes in black color option. However, the device is not entirely black in color - sides and a portion...

Fin24.com | BlackBerry's latest with full keypad hits SA next week
White House leaks must stop or 'everyone is getting fired', warns new coms chief
eNCA | BLF's Andile Mngxitama linked to Guptas

Here's the list of markets that'll get the new Samsung Galaxy J7 Nxt GSMArena (Yesterday) - Samsung recently launched a new smartpone dubbed Galaxy J7 Nxt. The device is currently only available in India, where it costs around $180. However, aside from India, the handset will...

EMERGING MARKETS-Emerging markets bullish pre-Fed; Poland shrugs off EU threat
Verizon's Galaxy S8 and S8+ get Daydream VR support through new update
Alleged Samsung Galaxy A7 (2018) spotted in benchmark listing

Samsung brings Galaxy J3 and J7 to the States on July 28 GSMArena (2 days ago) - Samsung has brought two new unlocked smartphone models into the US to compete with others in the online-retail unlocked demographic (though not a popular one, it has been steadily growing)....

Powerball results: Tuesday 25 July 2017
Verizon's Galaxy S8 and S8+ get Daydream VR support through new update
Alleged Samsung Galaxy A7 (2018) spotted in benchmark listing

ZeroLemon delivers Galaxy S8, S8+ and LG G6 battery cases with insane capacity GSMArena (2 days ago) - You may have heard of ZerLemon but if you haven't, they make absurdly large battery cases for the top smartphones out there. And they just added the Galaxy S8, Galaxy...
Nokia 8 leaks again in Copper color GSMArena (2 days ago) - We have seen the Nokia 8 leak many times in the past, to the point where there is nothing much left to the imagination. But that hasn't stopped the leaks...

Alleged 3G Nokia 3310 (2017) clears FCC
Pre-orders for silver Nokia 6 are now live in US
Nokia 2 spotted on Geekbench with Snapdragon 210 chipset

Analyst: Samsung Galaxy Note8 to have 3x zoom dual camera GSMArena (2 days ago) - Analyst Ming-Chi Kuo has long claimed that the Samsung Galaxy Note8 will have a dual camera with a telephoto lens and has now augmented his prediction - the telephoto will...

Xiaomi Mi 5X is official with MIUI 9, dual-camera
Verizon's Galaxy S8 and S8+ get Daydream VR support through new update
Nokia 8 to be announced on August 16