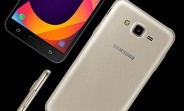 Samsung recently launched a new smartpone dubbed Galaxy J7 Nxt. The device is currently only available in India, where it costs around $180. However, aside from India, the handset will also be made available in several other markets.

Here's the complete list:

Afghanistan, Algeria, Bangladesh, Egypt, Ghana, Indonesia, Iran, Iraq, Kenya, Kazakhstan, Libya, Malaysia, Morocco, Nepal, Nigeria, Pakistan, Philippines, Poland, Russia, Saudi Arabia, Senegal, Singapore, South Africa, Sri Lanka, Thailand, Tunisia, Turkey, Vietnam, UAE, Ukraine, UK, and Uzbekistan.

There's, however,......
By: GSMArena - Tuesday, 25 July
To add to this post, use the comments section below to share your views or click here for detailed content
Metro Tell is a complete voice of the world's media. We are constantly distributing news and information items every minute of the day from numerous number of news establishments, publishers and blogs to the general public. MetroTell.co.za is the one source for all the news and stories you love.
All images, logos, trademarks and copyrights on MetroTell.co.za are owned by their respective owners.
- Advertisement -
Related Posts
Older News
Pricing and availability info for Samsung Galaxy J7+ leaks GSMArena (Today) - Shortly after its live images and hands-on video leaked, pricing and availability information for the Samsung Galaxy J7+ has leaked as well. The device is said to carry a tag...
African Markets - Factors to watch on Aug. 29 Reuters.com (Today) - The following company announcements, scheduled economic indicators, debt and currency marketmoves and political events may affect African markets on Tuesday.- - - - -GLOBAL MARKETSU.S. stock futures and Asian share...

South African Markets - Factors to watch on August 29
South African Markets - Factors to watch on August 28

Samsung expecting Galaxy Note8 to outsell Note5 GSMArena (Today) - Samsung is expecting to sell over 11 million units of its newly-unveiled Galaxy Note8 phablet. This was revealed by the South Korean tech giant's mobile chief Koh Dong-jin during a...

Pricing and availability info for Samsung Galaxy J7+ leaks
Fin24.com | Here's what Samsung did differently with the Note8
Samsung Galaxy Note8 is the best screen DisplayMate has ever tested

Samsung Galaxy Note8 is the best screen DisplayMate has ever tested GSMArena (Yesterday) - There's no doubt that Samsung can make some of the best display panels on the market. After all, Samsung makes its own TVs and even supplies panels to other TV...

Pricing and availability info for Samsung Galaxy J7+ leaks
Samsung expecting Galaxy Note8 to outsell Note5
Fin24.com | Here's what Samsung did differently with the Note8

Samsung Galaxy S5 Neo receives Android 7.0 Nougat update GSMArena (Yesterday) - While Google is busy releasing Android 8.0 Oreo to its supported devices, Samsung keeps on outing Android 7.0 Nougat updates for its smartphones. The latest model to be graced with...

Verizon's Pixels are starting to receive the Android 8.0 Oreo update
Pricing and availability info for Samsung Galaxy J7+ leaks
Samsung expecting Galaxy Note8 to outsell Note5

Samsung launches Pink Galaxy Note8 in Taiwan GSMArena (Yesterday) - Samsung announced the Galaxy Note8 in New York last week in four color options - Midnight Black, Maple Gold, Orchid Gray and Deep Sea Blue. Today a fifth option was...

Pricing and availability info for Samsung Galaxy J7+ leaks
Samsung expecting Galaxy Note8 to outsell Note5
Fin24.com | Here's what Samsung did differently with the Note8

Samsung Galaxy A 2018 phones could have Infinity Displays GSMArena (Yesterday) - The Galaxy A series has been adopting Galaxy S features from the year before and successfully bringing them to the premium mid-range market. The 2017 models adopted the Always on...

Pricing and availability info for Samsung Galaxy J7+ leaks
Samsung expecting Galaxy Note8 to outsell Note5
Samsung Galaxy Note8 is the best screen DisplayMate has ever tested

MobileFun: Galaxy Note8 pre-orders are 30% higher than Note7 GSMArena (Yesterday) - Samsung launched the Galaxy Note8 with Infinity Display last week and pre-orders are already open. According to MobileFun, one of the biggest online retailers in the UK, those about to...

Pricing and availability info for Samsung Galaxy J7+ leaks
Samsung expecting Galaxy Note8 to outsell Note5
Fin24.com | Here's what Samsung did differently with the Note8

Samsung Galaxy J7+ leaks in live images GSMArena (Yesterday) - We already know that a version of the Samsung Galaxy J7 (2017) with dual camera is incoming and it will be called Galaxy J7+. We also know that it'll be...

Pricing and availability info for Samsung Galaxy J7+ leaks
Samsung expecting Galaxy Note8 to outsell Note5
Samsung Galaxy Note8 is the best screen DisplayMate has ever tested

Top 10 trending phones of week 34 GSMArena (2 days ago) - With so many new announcements this week it's little wonder that there's plenty of movement in our top 10 trending list. Unsurprisingly the Samsung Galaxy Note8 shot to the top...

The new phones of week 34