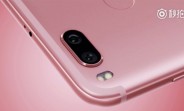 Chinese smartphone manufacturer Xiaomi has released a new video teaser for its upcoming Mi 5X smartphone. It shows the device from all possible angles and pays special attention to the dual rear-camera setup.

The phone already leaked in renders , and was recently certified by the FCC.

The Xiaomi Mi 5X is said to be powered by Snapdragon 625 chipset and sport a 5.5" 1080p screen. RAM is 4GB, OS is Android 7.1, and battery capacity is 3,000mAh. Rumors are that there'll also a higher end model with Snapdragon 660. Unveiling is set for July 26.

Via...
By: GSMArena - 2 days ago
To add to this post, use the comments section below to share your views or click here for detailed content
Metro Tell is a complete voice of the world's media. We are constantly distributing news and information items every minute of the day from numerous number of news establishments, publishers and blogs to the general public. MetroTell.co.za is the one source for all the news and stories you love.
All images, logos, trademarks and copyrights on MetroTell.co.za are owned by their respective owners.
- Advertisement -
Related Posts
In the last 3 hours
Xiaomi Mi 5X is official with MIUI 9, dual-camera GSMArena (Today) - Today is the day that Xiaomi finally makes MIUI 9 and the Xiaomi Mi 5X official.Bit by bit we saw the Mi 5X leaked to the point where the announcement...