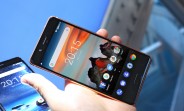 The Nokia 8 finally became official a couple of days ago, following many months of leaks, rumors, and speculation. The handset is already available for pre-order in Germany and Russia, and it's even cheaper than expected.

In Germany, you can pre-order from O2 or Mobilcom Debitel. The former carrier does have an online listing up, unlike the latter. O2 charges €577 for the device sans contract, which is quite a bit under the officially announced €599 level. At Mobilcom Debitel, the phone costs €579, which apparently represents the recommended retail price for Germany.

In due course,......
By: GSMArena - 2 days ago
To add to this post, use the comments section below to share your views or click here for detailed content
Metro Tell is a complete voice of the world's media. We are constantly distributing news and information items every minute of the day from numerous number of news establishments, publishers and blogs to the general public. MetroTell.co.za is the one source for all the news and stories you love.
All images, logos, trademarks and copyrights on MetroTell.co.za are owned by their respective owners.
- Advertisement -
Related Posts
New in last 15 minutes
Week 32 in review: Nokia 8 and Asus Zenfone 4 quartet go official GSMArena (Today) - In a welcome change of pace, this week brought a few major announcements to go with the usual leaks.Nokia, now under HMD management, brought its first proper flagship as the...
Older News
Weekly poll: now that the Nokia 8 is official, is Nokia back? GSMArena (Today) - It's back! Or is it? The Nokia 8 was unveiled this week, marking both the return of camera-focused Nokia flagships and a new option for a high-end pure Android phone.The...

Week 32 in review: Nokia 8 and Asus Zenfone 4 quartet go official
Top 10 trending phones of week 33
Counterclockwise: Nokia genetics and the features it evolved

Top 10 trending phones of week 33 GSMArena (Today) - The new Nokia 8 generated much buzz and it debuts on the podium of our Top 10 chart, right ahead of the Nokia 6. With the flagship out, the mid-range...

Weekly poll results: camera phones get a pass on humps, everything else better be flat

Counterclockwise: Nokia genetics and the features it evolved GSMArena (Today) - Nokia is one of the oldest mobile technology companies and has an amazing portfolio of phone-related tech. The networking equipment arm dates back almost to the company's inception, but the...

Week 32 in review: Nokia 8 and Asus Zenfone 4 quartet go official
Weekly poll: now that the Nokia 8 is official, is Nokia back?
Top 10 trending phones of week 33

Nokia 8 goes on pre-order in Germany and Russia, cheaper than expected [Updated] GSMArena (Yesterday) - Update: Pre-orders for the device are live in Australia as well. Retailer JB Hi-fi has the phone listed on its website, and is offering it for AUD 899, which currently...

Week 32 in review: Nokia 8 and Asus Zenfone 4 quartet go official
Weekly poll: now that the Nokia 8 is official, is Nokia back?
Top 10 trending phones of week 33

Just in: Nokia 8 hands-on GSMArena (2 days ago) - The Nokia 8 is here and it's a big deal. This is the first Nokia flagship in quite a while and the first Nokia flagship running on Android. As such...

Week 32 in review: Nokia 8 and Asus Zenfone 4 quartet go official
Weekly poll: now that the Nokia 8 is official, is Nokia back?
Top 10 trending phones of week 33

Nokia 9 with bigger screen than the Nokia 8 seemingly confirmed by company reps GSMArena (3 days ago) - For a while, there was some confusion in the rumorsphere regarding what the Nokia 8 would actually end up being called - that or Nokia 9. We obviously know now...

Week 32 in review: Nokia 8 and Asus Zenfone 4 quartet go official
Weekly poll: now that the Nokia 8 is official, is Nokia back?
Top 10 trending phones of week 33

The Nokia 8 vs Samsung Galaxy S8+ vs OnePlus 5 GSMArena (3 days ago) - Nokia 8 was announced yesterday with dual 13 MP cameras and Carl Zeiss optics. The first true Nokia Android flagship restarted the debate which high-end device sports the best camera...

Week 32 in review: Nokia 8 and Asus Zenfone 4 quartet go official
Weekly poll: now that the Nokia 8 is official, is Nokia back?
Top 10 trending phones of week 33

Nokia 8 camera samples: photos of London, black & white shots, bothies too GSMArena (3 days ago) - We took some camera samples with the Nokia 8, but the famous British weather did not want to cooperate. The first photo below is from Wednesday evening, right after the...

Week 32 in review: Nokia 8 and Asus Zenfone 4 quartet go official
Weekly poll: now that the Nokia 8 is official, is Nokia back?
Top 10 trending phones of week 33

Samsung Galaxy S7 edge drops to €420 in Germany GSMArena (3 days ago) - The Galaxy Note8 is days away from unveiling and we "know" most of the specs. So, perhaps it's not the best time to buy a Galaxy S7 edge, unless you...

Samsung Galaxy Tab A 8.0 (2017) gets TENAA certified
Samsung Galaxy Note8 US pre-orders to start on August 24. Sales on September 15
Samsung Bixby's global launch process begins