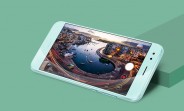 As you may already know, earlier today Asus held a special event during which it unleashed six additional Zenfone 4 models. These all run Android Nougat, but what about the future? We are, after all, most likely only a few short weeks away from the official launch of Android O (which annoyingly still doesn't have a proper name).

Well, if you're interested in purchasing one of Asus' new handsets, rest assured that they will get to taste the next iteration of Android. The slide you can see screengrabbed below was shared during the Zenfone 4 launch event.

Android O is promised to come......
By: GSMArena - 4 days ago
To add to this post, use the comments section below to share your views or click here for detailed content
Metro Tell is a complete voice of the world's media. We are constantly distributing news and information items every minute of the day from numerous number of news establishments, publishers and blogs to the general public. MetroTell.co.za is the one source for all the news and stories you love.
All images, logos, trademarks and copyrights on MetroTell.co.za are owned by their respective owners.
- Advertisement -
Related Posts
In the last 3 hours
Xiaomi working with Google on next Android One smartphone GSMArena (Today) - Google's project Android One is something that you might not even remember, but it's still alive. After the company launched the Sharp X1 exclusively for Japan, now there are rumors...
Older News
Week 32 in review: Nokia 8 and Asus Zenfone 4 quartet go official GSMArena (Yesterday) - In a welcome change of pace, this week brought a few major announcements to go with the usual leaks.Nokia, now under HMD management, brought its first proper flagship as the...

Weekly poll: now that the Nokia 8 is official, is Nokia back?
Top 10 trending phones of week 33
Counterclockwise: Nokia genetics and the features it evolved

Newly-announced Asus ZenFone 4 and ZenFone 4 Selfie Pro getting updates GSMArena (2 days ago) - Asus has started pushing out updates to the newly-unveiled ZenFone 4 and ZenFone 4 Selfie Pro smartphones. For the former, the update improves WiFi connectivity as well as brings along...

Week 32 in review: Nokia 8 and Asus Zenfone 4 quartet go official
Mass Effect: Andromeda: No More Single-Player Updates or Content Planned

News24.com | Citing Trump remarks, entire president's arts council quits News24 (2 days ago) - Actor Kal Penn, artist Chuck Close and the entire membership of the President's Committee On the Arts and Humanities have announced their resignation...

Donald Trump: Geliefd én gehaat
News24.com | Trump defends Confederate statues, berates his critics
Trump fires controversial chief strategist Bannon

Android O is "touching down to Earth with the total solar eclipse" on August 21, Google reveals GSMArena (3 days ago) - As rumored last week, August 21 will be an important day for Google and its mobile operating system. That's because the company promises we'll "meet the next release of Android...

Box Office Report: Reynolds and Jackson Pair Up for Victory, While Soderbergh Gets Mixed Reaction
Samsung Galaxy A5 with Snapdragon 660 appears on Geekbench
Xiaomi working with Google on next Android One smartphone

Nougat for Samsung Galaxy A8, A9 Pro, and Tab E is being tested GSMArena (3 days ago) - Looks like a couple of Samsung Galaxy A series smartphones and the TAB E series tablets will soon get the Nougat update. All these devices - the Galaxy A8, A9...

Samsung Galaxy A5 with Snapdragon 660 appears on Geekbench
Samsung Galaxy Tab A 8.0 (2017) gets TENAA certified [Updated]
Samsung Galaxy Tab A 8.0 (2017) gets TENAA certified