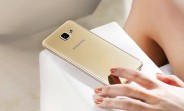 Looks like a couple of Samsung Galaxy A series smartphones and the TAB E series tablets will soon get the Nougat update. All these devices - the Galaxy A8, A9 Pro, Tab E 8.0, and Tab E 9.7 - with Android 7.0 on board have been granted certification by the WiFi Alliance.

This usually indicates that the update is currently being tested, and if everything goes fine, it should get pushed out soon. However, it'd not be fair to assume that the roll out is imminent given that some times it takes even 2-3 months for the update to start hitting units after receiving WiFi......
By: GSMArena - 3 days ago
To add to this post, use the comments section below to share your views or click here for detailed content
Metro Tell is a complete voice of the world's media. We are constantly distributing news and information items every minute of the day from numerous number of news establishments, publishers and blogs to the general public. MetroTell.co.za is the one source for all the news and stories you love.
All images, logos, trademarks and copyrights on MetroTell.co.za are owned by their respective owners.
- Advertisement -
Related Posts
New In Last Half Hour
Samsung Galaxy A5 with Snapdragon 660 appears on Geekbench GSMArena (Today) - Geekbench is a gold mine for leaks. The latest dig is a Samsung phone with a model number SM-A5300 that appeared on the benchmark website. The phone has Snapdragon 660...
Older News
Samsung Galaxy Tab A 8.0 (2017) gets TENAA certified [Updated] GSMArena (Today) - Update: The complete TENAA listing for the device is now accessible, revealing key specification including quad-core, 1.4GHz processor, and 8-inch display with 1280x800 pixel resolution.RAM is 3GB, while internal memory...

Samsung Galaxy A5 with Snapdragon 660 appears on Geekbench
Samsung Galaxy Note8 US pre-orders to start on August 24, sales on September 15 [Updated]
Samsung Galaxy Tab A 8.0 (2017) gets TENAA certified

Samsung Galaxy Tab A 8.0 (2017) gets TENAA certified GSMArena (2 days ago) - After appearing in benchmark listings and getting WiFi certification from the WiFi Alliance (WFA), the Samsung Galaxy Tab A 8.0 (2017) has been spotted on the website of China's TENAA....

Samsung Galaxy A5 with Snapdragon 660 appears on Geekbench
Samsung Galaxy Tab A 8.0 (2017) gets TENAA certified [Updated]
Samsung Galaxy Note8 US pre-orders to start on August 24, sales on September 15 [Updated]

Samsung Galaxy Note8 US pre-orders to start on August 24. Sales on September 15 GSMArena (2 days ago) - Following rumors that the Samsung Galaxy Note8 will be available in the US a day after its unveiling, the usually reliable tipster @evleaks has confirmed August 24 as the date...

Samsung Galaxy A5 with Snapdragon 660 appears on Geekbench
Samsung Gear Fit2 Pro pricing leaks
Samsung Galaxy Note8 US pre-orders to start on August 24, sales on September 15 [Updated]

Galaxy Note8 briefly shows up on Samsung's official website GSMArena (2 days ago) - Someone at Samsung jumped the gun, it seems, as the South Korean company's yet-to-be-unveiled Galaxy Note8 smartphone made an appearance on its official website.It's the 64GB storage variant that showed...

Samsung Galaxy A5 with Snapdragon 660 appears on Geekbench
Samsung Galaxy Note8 US pre-orders to start on August 24, sales on September 15 [Updated]
Samsung Galaxy Tab A 8.0 (2017) gets TENAA certified