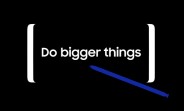 Samsung has said that its upcoming Galaxy Note8 smartphone will offer "more advanced" multimedia capabilities, effectively making it the best phone for multimedia consumption.

"The Galaxy Note series, first launched in 2011, come with a range of multimedia features, including the large-size display, and S Pen, only available with the smartphone models," the company said during a recent conference call. "The Galaxy Note 8 will feature more advanced, richer multimedia functionalities."

However, no details were provided about these advanced features. The Galaxy Note8 is set to be made......
By: GSMArena - 2 days ago
To add to this post, use the comments section below to share your views or click here for detailed content
Metro Tell is a complete voice of the world's media. We are constantly distributing news and information items every minute of the day from numerous number of news establishments, publishers and blogs to the general public. MetroTell.co.za is the one source for all the news and stories you love.
All images, logos, trademarks and copyrights on MetroTell.co.za are owned by their respective owners.
- Advertisement -
Related Posts
Older News
Samsung Galaxy A3 (2017) getting Android 7.0 Nougat in Russia GSMArena (Today) - The Samsung Galaxy A3 (2017) is now receiving the Android 7.0 Nougat update, just under two months after the 2016 model. The updates for the A5 (2017) and A7 (2017)...
Samsung Galaxy Note8 dual camera to come with 3x Optical Zoom GSMArena (Today) - The Galaxy Note8 leaks just keep on coming ahead of the August 23 launch. This latest one comes from Samsung Electro-Mechanics, the division responsible for the mobile camera modules. It...

Samsung Galaxy A3 (2017) getting Android 7.0 Nougat in Russia
Samsung W2018 flip phone live images surface
Alleged Samsung Galaxy X foldable phone gets Bluetooth certified

Alleged Samsung Galaxy X foldable phone gets Bluetooth certified GSMArena (Today) - A new Samsung phone has been granted Bluetooth certification by the Bluetooth SIG. The listing reveals the device carries a model number of SM-G888N0, with reports saying it could well...

Samsung Galaxy A3 (2017) getting Android 7.0 Nougat in Russia
Samsung Galaxy Note8 dual camera to come with 3x Optical Zoom
Samsung W2018 flip phone live images surface

Now training manual for Samsung Galaxy S8 Active leaks GSMArena (Today) - After a high-quality render for the Samsung Galaxy S8 Active leaked this past weekend, the official employee training manual for the device has also leaked, confirming what all we know...

Samsung Galaxy A3 (2017) getting Android 7.0 Nougat in Russia
Samsung Galaxy Note8 dual camera to come with 3x Optical Zoom
Alleged Samsung Galaxy X foldable phone gets Bluetooth certified

Check out our Samsung Galaxy J7 (2017) video review GSMArena (Yesterday) - Samsung did a great job refreshing its midrange lineup - the 2017 members of the A and J series are much better this year through the use of classier, better-feeling...

Samsung Galaxy A3 (2017) getting Android 7.0 Nougat in Russia
Samsung Galaxy Note8 dual camera to come with 3x Optical Zoom
Alleged Samsung Galaxy X foldable phone gets Bluetooth certified

Top 10 trending phones of week 30 GSMArena (Yesterday) - Another week another new champion in our top 10 trending list. The Samsung Galaxy J7 Pro is the second J7 device to lead the pack in the past three weeks...

Channel24.co.za | It's a milestone and a farewell for Trending SA

Week 30 in review: iPhone 8 renders, Xiaomi Mi 5X and Meizu Pro 7 official GSMArena (Yesterday) - Week 30 is almost over now and it was a fruitful one. It finally brought an end to the numerous Meizu Pro 7 and Pro 7 Plus leaks when Meizu...

Kenyan election official tortured, murdered
Meizu Pro 7 Plus teardown: to reach the secondary screen, remove the main screen
Alleged Meizu X2 leaks with circular secondary display

LG V30 to go on sale on September 15 in Korea, US gets it on the 28th GSMArena (2 days ago) - The LG V30 is the second most highly anticipated phablet to be announced this fall (it's safe to say that the Note8 wins that title), and it's set for an...

Still no arrests Ruben September case

Samsung Galaxy Note8 receives FCC certification GSMArena (2 days ago) - The Samsung Galaxy Note8 has received FCC certification, marking another necessary step before release to the public. You know what that means - another line of hideous markings on the...

Samsung Galaxy A3 (2017) getting Android 7.0 Nougat in Russia
Samsung Galaxy Note8 dual camera to come with 3x Optical Zoom
Alleged Samsung Galaxy X foldable phone gets Bluetooth certified

New Samsung Galaxy S8 render leaks GSMArena (2 days ago) - We've already had a couple of massive leaks related to the Samsung Galaxy S8 Active, revealing its design as well as key specifications. And now, a new, high-resolution render has...

Samsung Galaxy A3 (2017) getting Android 7.0 Nougat in Russia
Samsung Galaxy Note8 dual camera to come with 3x Optical Zoom
Samsung W2018 flip phone live images surface