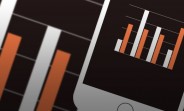 Another week another new champion in our top 10 trending list. The Samsung Galaxy J7 Pro is the second J7 device to lead the pack in the past three weeks and the fourth different winner in as many editions of the chart.

Nokia 6 slipped to second, while the Samsung Galaxy S8 retained the last spot on the rostrum.

Xiaomi Redmi Note 4 climbed to fourth, edging out the Samsung Galaxy J7 Prime, while the smaller Redmi 4 also gained a couple of spots and is now sixth.

In seven we have a new name on the chart - the Xiaomi Mi 5X debuted this week and immediately made it to the top 10.......
By: GSMArena - Yesterday
To add to this post, use the comments section below to share your views or click here for detailed content
Metro Tell is a complete voice of the world's media. We are constantly distributing news and information items every minute of the day from numerous number of news establishments, publishers and blogs to the general public. MetroTell.co.za is the one source for all the news and stories you love.
All images, logos, trademarks and copyrights on MetroTell.co.za are owned by their respective owners.
- Advertisement -
Related Posts
Older News
Channel24.co.za | It's a milestone and a farewell for Trending SA Channel24 (Yesterday) - SABC3's night-time talk show Trending SA celebrated its maiden anniversary at Q-Studios in Johannesburg's north-eastern suburb of Kew....
10111 call centre operators to go on strike Eyewitness News (3 days ago) - Last week's strike resulted in flying squad police officers being called in to man the phones at call centres....

Peyper Call At Centre of Lions Fightback
6,200 call centre jobs created in CT
Police Union Vows to Intensify 10111 Call Centre Strike