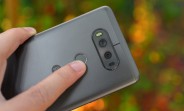 The LG V30 is the second most highly anticipated phablet to be announced this fall (it's safe to say that the Note8 wins that title), and it's set for an August 31 unveiling at IFA in Berlin - 8 days after its Samsung archrival has gone official.

It has now been revealed that the V30 will go on sale in its home country on September 15. In the US, the V30 will go on pre-order on September 17, while you'll be able to pick one up in a store starting September 28th.

The current V20 will likely lend its dual camera setup to the V30.

The info comes courtesy of an internal LG......
By: GSMArena - 2 days ago
To add to this post, use the comments section below to share your views or click here for detailed content
Metro Tell is a complete voice of the world's media. We are constantly distributing news and information items every minute of the day from numerous number of news establishments, publishers and blogs to the general public. MetroTell.co.za is the one source for all the news and stories you love.
All images, logos, trademarks and copyrights on MetroTell.co.za are owned by their respective owners.
- Advertisement -
Related Posts
Older News
Still no arrests Ruben September case Eyewitness News (2 days ago) - Ruben September was shot dead near his home in the Kukutown Informal Settlement on Wednesday night....