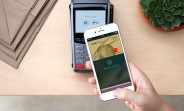 Apple Pay is already available in quite a few countries and territories, but its international expansion isn't about to slow down anytime soon. In fact, the company plans to launch its mobile payments service in additional markets before the end of this year.

As revealed during its earnings call for the second quarter of 2017, Apple Pay will make it to Denmark, Finland, Sweden, as well as the United Arab Emirates. For now all we know is that these rollouts will happen at some point before December 31, but more details may be coming soon.

The geographical expansion isn't all that Apple's......
By: GSMArena - 4 days ago
To add to this post, use the comments section below to share your views or click here for detailed content
Metro Tell is a complete voice of the world's media. We are constantly distributing news and information items every minute of the day from numerous number of news establishments, publishers and blogs to the general public. MetroTell.co.za is the one source for all the news and stories you love.
All images, logos, trademarks and copyrights on MetroTell.co.za are owned by their respective owners.
- Advertisement -
Related Posts