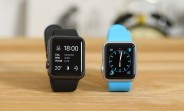 A report from Bloomberg cited "person/persons familiar with the matter" four times, so we will approach this story with the deserved amount of skepticism.

According to the report, Apple could be releasing an LTE-enabled Apple Watch alongside the iPhone 8 or toward the end of the year. But according to "another person familiar with the matter" (from the same report, mind you) it could be delayed well into 2018". Do you see where the skepticism comes in?

Anyhow, Apple had reportedly delayed an LTE-enabled version of the Watch before the Series 2 launched but had to put it off because it......
By: GSMArena - 4 days ago
To add to this post, use the comments section below to share your views or click here for detailed content
Metro Tell is a complete voice of the world's media. We are constantly distributing news and information items every minute of the day from numerous number of news establishments, publishers and blogs to the general public. MetroTell.co.za is the one source for all the news and stories you love.
All images, logos, trademarks and copyrights on MetroTell.co.za are owned by their respective owners.
- Advertisement -
Related Posts
New In Last 20 minutes
First clear photos of iPhone 8 emerge GSMArena (Today) - The floodgates have opened now that the iPhone 8 is in mass production. It didn't take long to get what has to be the first clear photos of the upcoming...
Older News
First live images of the iPhone 8 back surface GSMArena (Yesterday) - Apple is yet to announce a date for the iPhone 8 launch. But with the event closing in, the leaks are coming at a faster pace. The latest lead we...

First clear photos of iPhone 8 emerge
UPDATE 1-Cricket-South Africa fight back, but England still in control
iPhone 8 display assembly spotted in the wild, no Touch ID in sight