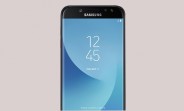 Samsung has launched a new smartphone dubbed Galaxy J5 Pro. The device is powered by Exynos 7870 SoC with octa-core 1.6GHz processor and Mali-T830MP2 GPU, and sports a 5.2-inch HD display.

RAM is 3GB, while internal memory is 32GB. The handset features a 13MP rear as well as 13MP front shooter. There's a fingerprint sensor on the front, and a 3,000mAh battery to keep the lights on. OS is Android Nougat (7.0).

If you compare, the Galaxy J5 Pro is nothing but a slightly upgraded version of the Galaxy J5 (2017), with better memory configuration being the only major change.

The......
By: GSMArena - 3 days ago
To add to this post, use the comments section below to share your views or click here for detailed content
Metro Tell is a complete voice of the world's media. We are constantly distributing news and information items every minute of the day from numerous number of news establishments, publishers and blogs to the general public. MetroTell.co.za is the one source for all the news and stories you love.
All images, logos, trademarks and copyrights on MetroTell.co.za are owned by their respective owners.
- Advertisement -
Related Posts
Older News
Samsung Galaxy A5 (2016) and A7 (2016) getting new update GSMArena (Today) - A new update has started hitting the Samsung Galaxy A5 (2016) and A7 (2016). Weighing in at just under 40MB and currently hitting units in India, it's a security update...
Dell offering Samsung Galaxy Tab S3 for $500 ($100 gift card included as well) GSMArena (Yesterday) - Just yesterday we told you about a Samsung Galaxy Tab S3 deal at B&H - tablet for $499.99 + free book cover keyboard. And today, we bring another Tab S3...

Samsung Galaxy A5 (2016) and A7 (2016) getting new update
New Samsung Galaxy On device to debut tomorrow
Samsung Galaxy S7/S7 edge on Sprint getting new update

New Samsung Galaxy On device to debut tomorrow GSMArena (Yesterday) - A teaser appeared on Flipkart today, asking to guess "What's On". From the font and the shape of the phone we can clearly gather that a new member of the...

Samsung Galaxy A5 (2016) and A7 (2016) getting new update
Dell offering Samsung Galaxy Tab S3 for $500 ($100 gift card included as well)
Samsung Galaxy S7/S7 edge on Sprint getting new update

Samsung Galaxy S7/S7 edge on Sprint getting new update GSMArena (Yesterday) - A new update has started hitting the Sprint variants of the Samsung Galaxy S7 and S7 edge smartphones. Weighing in at around 300MB, it brings the June Android security patch.The...

New security update starts hitting Sony Xperia XA1 and XA1 Ultra
Samsung Galaxy A5 (2016) and A7 (2016) getting new update
Dell offering Samsung Galaxy Tab S3 for $500 ($100 gift card included as well)

Grab Samsung Galaxy Tab S3 for $500 with book cover keyboard GSMArena (Yesterday) - The Samsung Galaxy Tab S3 landed in the US back in March, carrying a $600 price tag. Then in May, it was listed on Amazon for $543. A few weeks...

Samsung Galaxy A5 (2016) and A7 (2016) getting new update
Dell offering Samsung Galaxy Tab S3 for $500 ($100 gift card included as well)
New Samsung Galaxy On device to debut tomorrow

Chelsea are 'first choice' for ex-Arsenal man Cole Goal.com (Yesterday) - The former England international is not ready to ready to leave LA Galaxy just yet, but admits he hopes to return to Stamford Bridge when he does...

Arsenal's Xhaka goes blue for wedding to Leonita Lekaj

Samsung Galaxy S8/S8+ orchid grey variant now available in India GSMArena (Yesterday) - So far, the Samsung Galaxy S8 and S8+ have only been available in the three colors in India: black, blue, and gold. That's, however, no longer the case, as the...

32GB Apple iPhone 6 goes on sale in Canada
Samsung Galaxy A5 (2016) and A7 (2016) getting new update
Dell offering Samsung Galaxy Tab S3 for $500 ($100 gift card included as well)

English Bixby further delayed, Samsung tells Korea Herald GSMArena (2 days ago) - Samsung put a lot of focus into its new Bixby assistant for the launch of the Galaxy S8 and S8+. Four aspects of Bixby were announced at the event: Vision,...

Teach English and learn while you earn in South Korea
Fin24.com | July deadline for SARS to respond on delayed refunds
LATEST: Herald journalist Chese-Msowa dies

Galaxy Note8 camera setup photographed, leaked cases reveal a headphone jack GSMArena (2 days ago) - Today we're covering two of the latest Galaxy Note8 leaks. First off, a Facebook post allegedly contained a live image of the Galaxy Note8's camera setup, along with what is...
Get a Samsung Galaxy S8 for $499.99 GSMArena (2 days ago) - Get'em while they're discounted! The Samsung Galaxy S8 is currently on offer on BestBuy for $499.99 with a Boost Mobile prepaid deal. This offer sits $150 below the full retail...

Samsung Galaxy A5 (2016) and A7 (2016) getting new update
Dell offering Samsung Galaxy Tab S3 for $500 ($100 gift card included as well)
New Samsung Galaxy On device to debut tomorrow