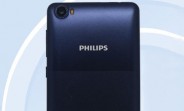 Philips has been keeping a rather low profile on the smartphone scene lately. In fact, to the best of our knowledge, the Dutch company's last Android handset release dates back to the end on 2015. This might change soon, as a mysterious Philips S310X recently passed through the TENAA Chinese certification authority.

Typically, this is indicative of an imminent release, however, the published information has a few confusing points. For one, it appears the device or devices that TENAA received run on Android 6.0 Marshmallow - a rather unorthodox and outdated choice for a still unannounced......
By: GSMArena - 5 days ago
To add to this post, use the comments section below to share your views or click here for detailed content
Metro Tell is a complete voice of the world's media. We are constantly distributing news and information items every minute of the day from numerous number of news establishments, publishers and blogs to the general public. MetroTell.co.za is the one source for all the news and stories you love.
All images, logos, trademarks and copyrights on MetroTell.co.za are owned by their respective owners.
- Advertisement -
Related Posts