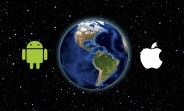 Samsung is back as the top smartphone maker in the US, according to data from Kantar. During the second quarter, the Galaxy phones captured 36.2% of the market (up from 32.9% in the previous quarter). However, that's a bit lower compared to the second quarter of last year.

Apple's US share rose a solid 4.7 percentage points year over year to 34%. The iPhone 7 and iPhone 7 Plus are the two best-selling phones in the country, followed by the Galaxy S7 in third and Galaxy S8 in fourth. Competitor LG G6 is thirteenth.

In the top European markets, Android ticked up 2.8 percentage points year......
By: GSMArena - 3 days ago
To add to this post, use the comments section below to share your views or click here for detailed content
Metro Tell is a complete voice of the world's media. We are constantly distributing news and information items every minute of the day from numerous number of news establishments, publishers and blogs to the general public. MetroTell.co.za is the one source for all the news and stories you love.
All images, logos, trademarks and copyrights on MetroTell.co.za are owned by their respective owners.
- Advertisement -
Related Posts
Older News
Samsung wins Korean lawsuit over Galaxy Note7 GSMArena (2 days ago) - Last year, a group of Galaxy Note7 owners filed a class action lawsuit against Samsung in South Korea. They sought KRW 300 thousand ($267) per person for the inconvenience called...