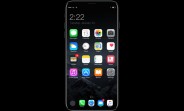 Apple has long been rumored to go with a fingerprint sensor embedded in the OLED screen of the upcoming iPhone 8, but apparently the exact way in which it will achieve such a feat is not set in stone yet. A new report from Cowen and Company's Timothy Arcuri says Apple is yet to decide on which solution to use for the device's biometric authentication.

The company is reportedly facing three options: thinning the cover glass of the display over a sensor area, creating a pinhole through the glass for an optical or ultrasonic sensor, or going with a "film" sensor which is integrated into the......
By: GSMArena - 2 days ago
To add to this post, use the comments section below to share your views or click here for detailed content
Metro Tell is a complete voice of the world's media. We are constantly distributing news and information items every minute of the day from numerous number of news establishments, publishers and blogs to the general public. MetroTell.co.za is the one source for all the news and stories you love.
All images, logos, trademarks and copyrights on MetroTell.co.za are owned by their respective owners.
- Advertisement -
Related Posts
Older News
Special edition 32GB iPhone 6 to land in Canada on July 5 GSMArena (Today) - Earlier this year Apple re-launched the iPhone 6. While the original from 2014 came with either 16, 64, or 128GB of storage, the newly released special edition iPhone 6 sports...
Congo to withdraw troops from CAR after sex abuse claims IOL - News (Yesterday) - The DRC has decided to withdraw 630 soldiers to the UN peacekeeping mission in CAR following sexual abuse allegations....

UN extends and expands sanctions on Congo

Virgin Mobile stops selling Android handsets, goes iPhone-only with new Inner Circle plan GSMArena (2 days ago) - Sprint-owned prepaid brand Virgin Mobile has decided to shake things up in the US carrier space - somewhat, at least. Virgin is no longer selling any Android smartphones. The only...

Special edition 32GB iPhone 6 to land in Canada on July 5
LG X Power2 with 4,500mAh battery now available in Canada
Google's Android O could be "oatmeal cookie", but could also be Oreo

vivo teaser possibly confirms it's unveiling in-screen fingerprint scanner next week GSMArena (2 days ago) - Last week a leaked video purportedly showed a vivo smartphone with a fingerprint sensor embedded in the screen in action, but apparently that was fake. However, vivo could still be...
Apple's latest iPhone 7 ad is all about auto-created Memories in the Photos app GSMArena (3 days ago) - Apple's newest ad for the iPhone 7 has been posted to YouTube today. This one isn't specifically about the phone, however - it's all about Memories (with a capital M)....

Special edition 32GB iPhone 6 to land in Canada on July 5
News24.com | US releases photos of 'unsafe' Russian jet intercept
Google Photos removes ability to have backups performed only when charging

OnePlus 5 goes official with Snapdragon 835 and dual camera GSMArena (3 days ago) - The OnePlus 5 just went official on the global stage. The phone supports 34 network bands, hinting at the company's desire to build a flagship for the whole world.And it's...

Asus Zenfone Zoom S to come to Europe next month
Gold OnePlus 5 swings by TENAA, we hold our breath
Oppo R11 Taiwan launch set for July 1, company confirms