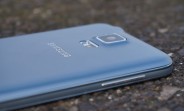 While Google is busy releasing Android 8.0 Oreo to its supported devices, Samsung keeps on outing Android 7.0 Nougat updates for its smartphones. The latest model to be graced with such a feat is the Galaxy S5 Neo, a handset released exactly two years ago. That makes this certainly the last big software update it will ever see - considering its age, but also the fact that it launched running Lollipop and was then upgraded to Marshmallow too.

The Galaxy S5 Neo was produced in two versions, one for Europe and one for Canada. It's the latter (with the model number G903W) that is currently......
By: GSMArena - 3 days ago
To add to this post, use the comments section below to share your views or click here for detailed content
Metro Tell is a complete voice of the world's media. We are constantly distributing news and information items every minute of the day from numerous number of news establishments, publishers and blogs to the general public. MetroTell.co.za is the one source for all the news and stories you love.
All images, logos, trademarks and copyrights on MetroTell.co.za are owned by their respective owners.
- Advertisement -
Related Posts
Older News
Report says Samsung Galaxy Tab A 8.0 2017 (or Galaxy Tab A2 S) is aimed at kids GSMArena (Today) - We already know quite a few things about Samsung's upcoming tablet, such as its key specs, the fact that it will feature Bixby Home and 4G support, and that the...
Nougat update starts hitting Verizon Ellipsis 8 HD tablet GSMArena (Yesterday) - Verizon has started pushing out a new update to its Ellipsis 8 HD tablet. Arriving as software version SUN1_20A10, it's a major update that bumps the OS version to Android...

Report says Samsung Galaxy Tab A 8.0 2017 (or Galaxy Tab A2 S) is aimed at kids
Android 8.0 Oreo is now rolling out to all supported Pixel and Nexus devices across the globe
New Verizon Samsung Galaxy S8/S8+ update brings faster face recognition

Android 8.0 Oreo is now rolling out to all supported Pixel and Nexus devices across the globe GSMArena (Yesterday) - Android 8.0 Oreo was officially named last Monday, which is when the final version of it started going out to Pixel and Nexus devices enrolled in the Android Beta program....

Acer unveils Android-powered 360° camera, multiple portable computers
Sony G8541 with 6.2-inch display and Android Oreo spotted in benchmarks
Verizon's Pixels are starting to receive the Android 8.0 Oreo update

Deal: Get a Galaxy Note8 for just $20 per month at Sprint, or wait for T-Mobile's BOGO offer GSMArena (Yesterday) - If you want to pre-order a Samsung Galaxy Note8 in the US, but want to pay as little as possible for it (and you haven't owned one of those ill-fated...

Fin24.com | Cell C hits Icasa speed bump over recapitalisation deal
LG V20 again drops to $350 in US
Galaxy Note8 will become available in India on September 25, rumor says

Galaxy Note8 will become available in India on September 25, rumor says GSMArena (Yesterday) - Regarding the availability of Samsung's recently announced Galaxy Note8 in India, we've so far reported that pre-orders in the country are due to start on September 11. When that info...

PS Plus Games Announced for September 2017
Deal: Get a Galaxy Note8 for just $20 per month at Sprint, or wait for T-Mobile's BOGO offer
Samsung takes the stage at IFA to bring us new smartwatches

Samsung announces Gear Sport, Gear Fit2 Pro, and Gear IconX (2018) GSMArena (Yesterday) - The news about the Samsung Galaxy Note8 is already out in the open and the company is moving on to its next big things. In the case of IFA 2017...

Samsung takes the stage at IFA to bring us new smartwatches
Livestream: Samsung takes the stage at IFA to bring us new smartwatches
Samsung at IFA 2017: Gear Sport, Fit2 Pro, IconX (2018) hands-on review

Samsung takes the stage at IFA to bring us new smartwatches GSMArena (Yesterday) - Now that the Galaxy Note no longer calls IFA "home", it's up to Samsung's Gear wearables to supply the wow factor. The Gear Fit2 Pro fitness tracker went official spontaneously,...

Livestream: Samsung takes the stage at IFA to bring us new smartwatches
Samsung Galaxy Note8 is the best screen DisplayMate has ever tested

Livestream: Samsung takes the stage at IFA to bring us new smartwatches GSMArena (Yesterday) - Now that the Galaxy Note no longer calls IFA "home", it's up to Samsung's Gear wearables to supply the wow factor. The Gear Fit2 Pro fitness tracker went official spontaneously,...

Livestream: LG's IFA 2017 Press Conference
LG V30 livestream starting soon, watch it here
Samsung takes the stage at IFA to bring us new smartwatches

Samsung at IFA 2017: Gear Sport, Fit2 Pro, IconX (2018) hands-on review GSMArena (Yesterday) - Samsung has already unveiled the Galaxy Note8 just a week prior to the IFA in Berlin. It did even spill the beans, accidentally or not, on the Gear Fit2 band....

LG V30 hands-on review: First impressions
Report says Samsung Galaxy Tab A 8.0 2017 (or Galaxy Tab A2 S) is aimed at kids
Samsung announces Gear Sport, Gear Fit2 Pro, and Gear IconX (2018)

Samsung Galaxy Note8 to reportedly land in China on September 13 GSMArena (Yesterday) - According to a new report, the Samsung Galaxy Note8 will land in China in a couple of weeks from now. Specifically, the report notes the unveiling is set for September...

Report says Samsung Galaxy Tab A 8.0 2017 (or Galaxy Tab A2 S) is aimed at kids
PS Plus Games Announced for September 2017
Deal: Get a Galaxy Note8 for just $20 per month at Sprint, or wait for T-Mobile's BOGO offer