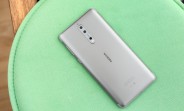 The Nokia 8 was finally announced this month, following many rumors and leaks. The phone has so far gone up for pre-order in a few countries, surprisingly costing less than the officially unveiled price of €599 in a lot of places. And now there's another surprise regarding the handset: it's actually in stock already in Nokia's home country of Finland, despite the fact that its release was supposedly happening in early September.

That's probably still going to be the case for other territories, but Finland got it first. You can buy a SIM-free and unlocked unit for €579 or you can pick a......
By: GSMArena - 3 days ago
To add to this post, use the comments section below to share your views or click here for detailed content
Metro Tell is a complete voice of the world's media. We are constantly distributing news and information items every minute of the day from numerous number of news establishments, publishers and blogs to the general public. MetroTell.co.za is the one source for all the news and stories you love.
All images, logos, trademarks and copyrights on MetroTell.co.za are owned by their respective owners.
- Advertisement -
Related Posts