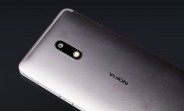 A new update has started hitting the Nokia 6 smartphone. Weighing in at around 150MB and currently hitting units in Taiwan and Hong Kong, the new firmware comes with the Android security fixes for July. This makes the mid-range Nokia 6 the fist phone to get the latest update.

According to the screenshot below, the update brings no new features and the Android version remains at 7.1.1. Reports say the Chinese variant of the handset will also be getting latest security patch very soon.

Via...
By: GSMArena - 2 days ago
To add to this post, use the comments section below to share your views or click here for detailed content
Metro Tell is a complete voice of the world's media. We are constantly distributing news and information items every minute of the day from numerous number of news establishments, publishers and blogs to the general public. MetroTell.co.za is the one source for all the news and stories you love.
All images, logos, trademarks and copyrights on MetroTell.co.za are owned by their respective owners.
- Advertisement -
Related Posts
In the last 3 hours
New security update starts hitting Sony Xperia XA1 and XA1 Ultra GSMArena (Today) - A new update has started rolling out to the Sony Xperia XA1 and XA1 Ultra smartphones. It's a security update that's arriving as build number 40.0.A.5.66 for the former and...
New T-Mobile LG G3 update fixes 2G/3G roaming issues GSMArena (Today) - T-Mobile has started pushing out a new update to LG G3 units on its network. Arriving as software version D85130g and weighing in at 132 MB, the update brings along...

New security update starts hitting Sony Xperia XA1 and XA1 Ultra
Samsung Galaxy A5 (2016) and A7 (2016) getting new update
New OnePlus 5 update improves WiFi connectivity, voice calling

Older News
Samsung Galaxy A5 (2016) and A7 (2016) getting new update GSMArena (Today) - A new update has started hitting the Samsung Galaxy A5 (2016) and A7 (2016). Weighing in at just under 40MB and currently hitting units in India, it's a security update...

New security update starts hitting Sony Xperia XA1 and XA1 Ultra
Dell offering Samsung Galaxy Tab S3 for $500 ($100 gift card included as well)
Mugabe spent over $50mn on travel in 2016

Samsung Galaxy S7/S7 edge on Sprint getting new update GSMArena (Yesterday) - A new update has started hitting the Sprint variants of the Samsung Galaxy S7 and S7 edge smartphones. Weighing in at around 300MB, it brings the June Android security patch.The...

New security update starts hitting Sony Xperia XA1 and XA1 Ultra
Samsung Galaxy A5 (2016) and A7 (2016) getting new update
Dell offering Samsung Galaxy Tab S3 for $500 ($100 gift card included as well)

Market update - 06 July 2017 IOL - Business (Yesterday) - Market update by Kabelo Khumalo...

New security update starts hitting Sony Xperia XA1 and XA1 Ultra
African Markets - Factors to watch on July 7
UPDATE 1-Lungu invokes emergency powers in Zambia after market blaze

Nokia Android with dual-lens Zeiss camera is coming this year GSMArena (Yesterday) - HMD Global and ZEISS signed a partnership to bring the Zeiss brand back to Nokia smartphones. Later a tweet dedicated to the announcement hinted that a dual-camera Nokia smartphone is...

Sony G8441 spotted in benchmark listing with Snapdragon 835 SoC, Android 8.0
The OnePlus 5 scores 87 on DxOMark
vivo X9s and X9s Plus become official with dual front cameras

July update starts rolling out to BlackBerry phones GSMArena (Yesterday) - BlackBerry has announced that it has started rolling out the July security update to its Android-powered smartphones. The announcement came in the form of a tweet from the company's Security...

New security update starts hitting Sony Xperia XA1 and XA1 Ultra
Market update - 06 July 2017
July security update failing to install on some carrier variants of Google Pixel

Former Parly security deputy questions probe into Gengezi Mgidlana Eyewitness News (Yesterday) - In July 2015, Parliament announced that its head of security Zelda Holtzman and her deputy, Motlatsi Mokgatla, were suspended for alleged 'security breaches'....
July security update failing to install on some carrier variants of Google Pixel GSMArena (2 days ago) - Google has confirmed that there's some issue with this month's security update and the company is working on it. Specifically, several Pixel users are getting an 'Installation problem' error when...

New security update starts hitting Sony Xperia XA1 and XA1 Ultra
New T-Mobile LG G3 update fixes 2G/3G roaming issues
Samsung Galaxy A5 (2016) and A7 (2016) getting new update

Google outs July security patches for Pixel and Nexus devices GSMArena (2 days ago) - At the beginning of each month Google releases a new set of security patches for Android, and July is no exception. These are sent out by the company to the...

New T-Mobile LG G3 update fixes 2G/3G roaming issues
Google might soon update Pixel devices with always-on mode for Ambient Display
Google facing another EU fine over Android violations