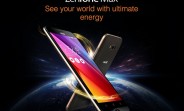 Asus has started pushing out a new update to its ZenFone Max (ZC550KL) smartphone. Arriving as version 13.8.26.92, the update brings a new app dubbed Asus Power Master that the company says should help improve the phone's battery performance.

Aside from this, there's one more change mentioned in the official change-log: "Several APP update." This possibly means that several existing apps have been updated.

The company says it usually takes one week for the system to complete the autopush, so it may take sometime for the update to hit your device.

Source | Via...
By: GSMArena - Wednesday, 24 May
To add to this post, use the comments section below to share your views or click here for detailed content
Metro Tell is a complete voice of the world's media. We are constantly distributing news and information items every minute of the day from numerous number of news establishments, publishers and blogs to the general public. MetroTell.co.za is the one source for all the news and stories you love.
All images, logos, trademarks and copyrights on MetroTell.co.za are owned by their respective owners.
- Advertisement -
Related Posts
Older News
HTC U11 to get Bluetooth 5.0, sRGB mode with next update GSMArena (Today) - The HTC U11 is about to get a major firmware update that brings some cool new features. One of them is Bluetooth 5.0 - apparently the hardware is there it...
Accu Asus a31n1601 36Wh 10.8V (Today) - Asus nieuwste 2-in-1 is een milde vernieuwen dat lijkt onze klachten geuit over zijn voorganger. Accu Asus a31n1601 lanceerde van een oppervlak-achtig apparaat voor het laatst was de transformator 3 Pro...

Asus teases Zenfone 4, showing the dual camera on its back
Asus sends out invites for August 19 event

OnePlus 5 gets EIS for 4K videos in latest update GSMArena (Yesterday) - A month ago, OnePlus promised to enable EIS for 4K video recording on the OnePlus 5 and here it is - OxygenOS 4.5.7 brings the additional stabilization, along with some...

Product manager tells the story of how the OnePlus 5 came to be
Dota 2 Update Adds Features to Help New Players

Asus teases Zenfone 4, showing the dual camera on its back GSMArena (Yesterday) - Asus has been making the rounds in social media, building up hype for the Zenfone 4. The latest is a teasing peek at the back of the phone and its...

Cases reveal Google Pixel 2 and Pixel 2 XL design: bye, 3.5mm jack
vivo Xplay 7 to feature triple rear-camera and on-screen fingerprint sensor
Accu Asus a31n1601 36Wh 10.8V

Users reporting performance issues with Xperia Z5 series Android 7.1.1 update GSMArena (Yesterday) - The Android 7.1.1 update for the Sony Xperia Z5, Z3+ and Z4 Tablet started rolling out towards the end of June this year, bringing new features and improvements. However, it...

Sony issues a fix for Xperia Z5 performance issues
Android 7.1 update for Samsung Galaxy S8/S8+ imminent
HTC U11 to get Bluetooth 5.0, sRGB mode with next update

Asus sends out invites for August 19 event GSMArena (Yesterday) - Asus has started sending out "save the date" invites for an August 19 event that is set to take place in the Philippines. The teaser image, however, doesn't reveal anything...

Overwatch Summer Games to Return August 8th
Accu Asus a31n1601 36Wh 10.8V
Asus teases Zenfone 4, showing the dual camera on its back