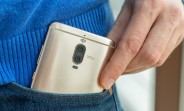 Huawei is going to launch the Mate 10 on October 16. There is still plenty of time, and Huawei is using it to build hype and has just released a photo of the rear of the phone. The phablet will, unsurprisingly, arrive with dual cameras and will join the Leica Family of Huawei devices that currently consists the Huawei P9/P9 Plus, Huawei Mate 9/Mate 9 Pro and the Huawei P10/P10 Plus.

pic.twitter.com/PasaMCb5cU— HuaweiMobileAu (@HuaweiMobileAU) August 24, 2017

Тhis is the second time in the last several days the Chinese manufacturer hits at Samsung and its Galaxy Note8 after the......
By: GSMArena - 4 days ago
To add to this post, use the comments section below to share your views or click here for detailed content
Metro Tell is a complete voice of the world's media. We are constantly distributing news and information items every minute of the day from numerous number of news establishments, publishers and blogs to the general public. MetroTell.co.za is the one source for all the news and stories you love.
All images, logos, trademarks and copyrights on MetroTell.co.za are owned by their respective owners.
- Advertisement -
Related Posts
Older News
Huawei Mate 10 internally codenamed as Marcel GSMArena (Today) - The Huawei Mate 10 is internally codenamed as Marcel. This was revealed by the usually reliable tipster @evleaks in a tweet sent out this past weekend.Codename for Huawei Mate 10...
Weekly poll: is the Galaxy Note8 everything you hoped it would be? GSMArena (Yesterday) - The Note launch is usually the highlight of Samsung Mobile's year, but was the Galaxy Note8 everything you hoped it would be? The dual camera is Samsung's first but it...

MobileFun: Galaxy Note8 pre-orders are 30% higher than Note7
Top 10 trending phones of week 34
Counterclockwise: milestones in Galaxy Note's history

Camera test: Nokia 8 vs. Galaxy S8 vs. LG G6 vs. iPhone 7 Plus vs. Huawei P10 GSMArena (3 days ago) - While reviewing the Nokia 8, we couldn't pass on the opportunity for a quick camera shootout between the flagships we have around. Consider this an early look into what's coming...

Samsung Galaxy J7+ leaks in live images
Huawei Mate 10 internally codenamed as Marcel
Top 10 trending phones of week 34