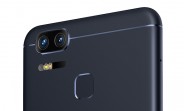 ASUS has launched its ZenFone Zoom S smartphone in India. The phone is priced at INR 26,999 ($420) and will be available exclusively on Flipkart.

ZenFone Zoom S

The ASUS ZenFone Zoom S (also known as the ZenFone 3 Zoom elsewhere) is the second model in the ZenFone Zoom line. Unlike the first model that featured a large and bulky optical zoom mechanism, the ZenFone Zoom S instead features a dual camera system similar to the iPhone 7 Plus.

The primary camera in this dual camera system is a 12 megapixel sensor with f1.7 aperture and 25mm wide angle lens. The second camera is also......
By: GSMArena - 4 days ago
To add to this post, use the comments section below to share your views or click here for detailed content
Metro Tell is a complete voice of the world's media. We are constantly distributing news and information items every minute of the day from numerous number of news establishments, publishers and blogs to the general public. MetroTell.co.za is the one source for all the news and stories you love.
All images, logos, trademarks and copyrights on MetroTell.co.za are owned by their respective owners.
- Advertisement -
Related Posts
Older News
Week 32 in review: Nokia 8 and Asus Zenfone 4 quartet go official GSMArena (Yesterday) - In a welcome change of pace, this week brought a few major announcements to go with the usual leaks.Nokia, now under HMD management, brought its first proper flagship as the...
Newly-announced Asus ZenFone 4 and ZenFone 4 Selfie Pro getting updates GSMArena (2 days ago) - Asus has started pushing out updates to the newly-unveiled ZenFone 4 and ZenFone 4 Selfie Pro smartphones. For the former, the update improves WiFi connectivity as well as brings along...

Week 32 in review: Nokia 8 and Asus Zenfone 4 quartet go official
Mass Effect: Andromeda: No More Single-Player Updates or Content Planned