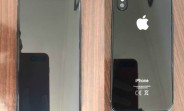 If you've had enough of all the leaks and are ready for Apple to finally make its latest smartphones official, you'll be happy to know which date to mark in your calendar for that. According to a new report from the Wall Street Journal, the company will be holding an event on September 12.

It is currently "aiming" to use the Steve Jobs Theater on its new headquarters campus. However, the new HQ isn't finished yet, and depending on how construction on site goes the company may be unable to actually hold the announcement at the venue. The backup plan is likely to be the Bill Graham Civic......
By: GSMArena - 3 days ago
To add to this post, use the comments section below to share your views or click here for detailed content
Metro Tell is a complete voice of the world's media. We are constantly distributing news and information items every minute of the day from numerous number of news establishments, publishers and blogs to the general public. MetroTell.co.za is the one source for all the news and stories you love.
All images, logos, trademarks and copyrights on MetroTell.co.za are owned by their respective owners.
- Advertisement -
Related Posts
Older News
PS Plus Games Announced for September 2017 IGN Africa (Yesterday) - Rigs is also free from September 5 through November 7.September's PS Plus Lineup also features Hue, Strike Vector Ex, and more....
iPhone 8: gesture controls fully replace the home button, new report claims GSMArena (Yesterday) - The upcoming iPhone 8 (or iPhone X, or iPhone Edition) that Apple might unveil at a rumored event on September 12 will completely kill one of the most iconic features...
Fin24.com | How Apple plans to change the way you use the next iPhone Fin24 News (Yesterday) - Apple plans to transform the way people use its next high-end iPhone by eliminating the concept of a home button and making other adjustments....

iPhone 8: gesture controls fully replace the home button, new report claims
Google, Apple face off over augmented reality technology
Apple, Accenture team up on iPhone, iPad apps for businesses

[OPINION] Putin's weird war gets ever riskier Eyewitness News (Yesterday) - September will be a nervous month in Eastern Europe. On 14 September, Russia will unleash what may be its largest military exercise since the Cold War....
Google, Apple face off over augmented reality technology Eyewitness News (2 days ago) - Analysts expected the game to make $3 billion for Apple over two years as gamers buy "PokéCoins" from its app store....

The Walking Dead: Our World - Pokemon Go, But With Zombies
Google Assistant is coming to new speakers, washing machines and other home appliances
Asus unveils mixed reality headset and super thin laptops at IFA

Apple, Accenture team up on iPhone, iPad apps for businesses SABC News (2 days ago) - Technology company Apple Inc and professional services company Accenture PLC said Tuesday they will team up to help businesses build better applications for iOS....

iPhone 8: gesture controls fully replace the home button, new report claims
Fin24.com | How Apple plans to change the way you use the next iPhone
Google, Apple face off over augmented reality technology

Dimensions of iPhone 7s and 7s Plus leak again GSMArena (2 days ago) - Apple users have gradually become more sensitive to the size of their iPhones - some want to go big, others prefer small phones. Back in June we looked at some...
Fin24.com | Tim Cook reaps $89.2m stock award as Apple outshines S&P Fin24 News (2 days ago) - Apple CEO Tim Cook has collected 560 000 shares, half of them linked to the company's performance....

Fin24.com | How Apple plans to change the way you use the next iPhone
Google, Apple face off over augmented reality technology
[GUIDE] Black ownership on SA's stock exchange – what we know

Fitbit takes aim at Apple with new smartwatch launch Eyewitness News (2 days ago) - With a price tag of $299.95, Ionic is priced above Apple Watch's starting price of $269....

Moto X4 announcement imminent at IFA 2017
Diesel On Full Guard is the company's first smartwatch
Fin24.com | How Apple plans to change the way you use the next iPhone

Apple Will Reportedly Reveal New iPhone on September 12 IGN Africa (3 days ago) - Will the iPhone 8 officially make its debut?A new report suggests the 10th anniversary iPhone will be revealed in just a couple of weeks....

PS Plus Games Announced for September 2017
iPhone 8: gesture controls fully replace the home button, new report claims
Samsung Galaxy Note8 to reportedly land in China on September 13